Have you ever dreamed of organising a location trip to Scotland to visit the places where your favourite film or TV show was filmed? Or are you a local who wonders which movies or shows have been made near you and would like to take a selfie at the very spot where Chris Pine once stood? Well now you can!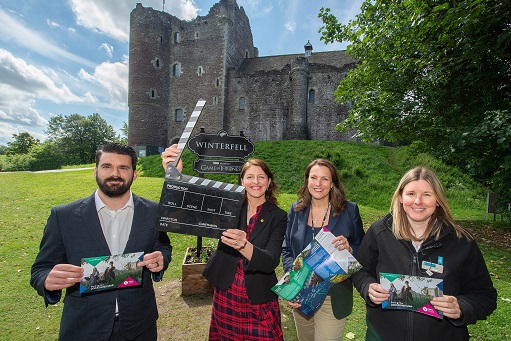 Stuart Oliver, Stirling Council's Senior Manager, Economic Development, Culture and Tourism; Cllr Evelyn Tweed; Audrey Jones, Head of New Business at Historic Environment Scotland (HES); Shona Menzies from HES at Doune Castle.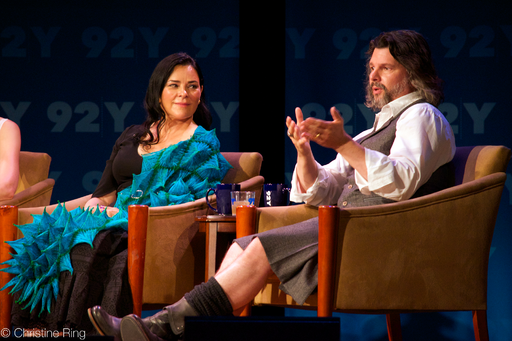 Author Diana Gabaldon and Ronald D. Moore at the New York premiere of Outlander
Stirling Council has recently launched the Stirling Film Location Map – a handy route planner for visitors and locals alike, with suggested itineraries and brilliant facts about the top Stirling locations that have hit our screens.
The Outlander effect
Amongst these are Doune Castle, which appears as Castle Leoch in the TV series Outlander and is also the original Winterfell in the pilot episode of Game of Thrones. Its appearance in these series has resulted in a huge surge of visits to the castle. Coined 'The Outlander Effect' – the castle has seen an amazing 226.5% increase in footfall since the Outlander series began.
A sought-after location
Other film locations you'll find in the leaflet include Stirling Castle, Deanston Distillery, Blair Drummond Safari and Adventure Park, Loch Katrine, The Trossachs, Loch Venachar, East Loch Lomond and Mugdock Country Park. They have played roles in films such as Outlaw King (2018), The Eagle (2011), Monty Python and the Holy Grail (1975), Ivanhoe (1952), Elizabeth: The Golden Age (2007) The Angel's Share (2012), Rob Roy (1953), and Mary Queen of Scots (2018).
Selfie time
Stirling Councillor Alison Laurie said: "While film fans are already flocking to locations across Stirling, this new map will make it easier for them to see more of our magnificent landmarks, picturesque towns and villages and beautiful countryside.
"Whether you want to take a selfie in the place where Chris Pine went into battle as Robert the Bruce in Outlaw King, see the home of the Stark family in Game of Thrones or relive where King Arthur and his band of merry knights were taunted by French soldiers in Monty Python and the Holy Grail – now you'll know exactly where to go and how to fit it all in!"
Get your map
The film location map can be downloaded from the Stirling Council website and is available on the Explore Stirling App. It can also be picked up at tourist sites across Stirling, including those featured on the guide.
Photo credits:
Outlander Premiere: By Christine Ring [CC BY 2.0 (http://creativecommons.org/licenses/by/2.0) or CC BY 2.0 (http://creativecommons.org/licenses/by/2.0)], via Wikimedia Commons.
Stirling Council/Doune Castle: Photography by Whyler Photos of Stirling www.whylerphotos.com – 01786 474340