Staying at our properties and COVID-19 related information
Stirling Self Catering's utmost priority is your health, safety and wellbeing while you stay at our properties, as well as the safety of our team. In light of the COVID-19 outbreak, we are implementing additional cleaning protocols at our properties to ensure you can relax and enjoy a safe break.
Stirling Self Catering is a member of the Association of Scotland's Self-Caterers (ASSC).  This trade association has developed thorough Cleaning Protocols for Self-Catering Properties in the Context of COVID-19. It is supported by the Scottish Tourism Alliance.
We proudly display the 'We're Good To Go' industry standard and supporting mark. This demonstrates that we adhere to the relevant Government and public health guidance, and have carried out COVID-19 risk assessments to check we have the required processes and protocols in place.
Prior to COVID-19, we took great pride in the exceptionally high standard of cleanliness of our properties.   Now, we are taking extra steps to ensure you can book with us with confidence that the property has been cleaned strictly in line with the new COVID-19 protocols.
Cleaning
Stirling Self Catering's staff have completed ASSC's COVID-19's Cleaning Protocols training course.
A COVID-19 cleaning checklist will be developed for each property and this will be strictly followed by the cleaning team. The checklist for each property can be found from 1st July in the 'At A Glance' section on the relevant property page.
Hospital grade virucide disinfectants complying with EN14675 will be used where appropriate.
Our cleaning team will wear appropriate Personal Protective Equipment (PPE).
Cleaning materials and disinfectants will be available in the properties for you to use during your stay. It is your responsibility to provide your own PPE during your stay.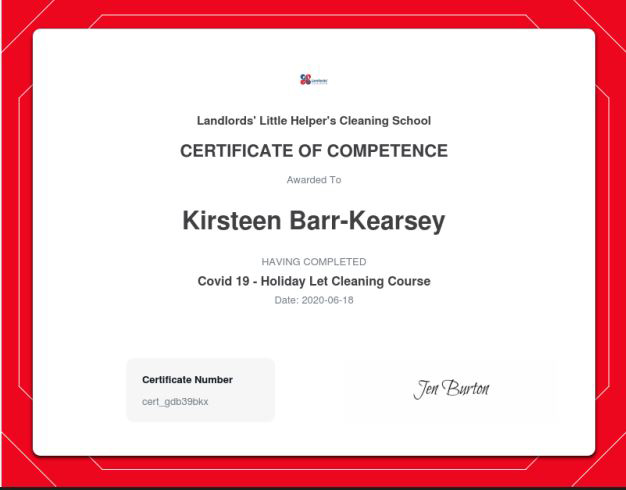 Risk Assessment
To ensure the safety of our guests and staff, Stirling Self Catering will undertake Risk Assessments for each property, which will be reviewed regularly in light of any developments in Government issued guidelines.
The Risk Assessments can be found from 1st July in the 'At A Glance' section on each property page.
Arrival and Departure
The check-in and check-out processes are contactless.
Your welcome folder containing access and key collection information, WiFi codes and instructions for central heating, white goods, cookers etc will be sent to you electronically shortly before your visit.
As always, we are available by phone should you have any questions during your stay. Further, our properties have sufficient outdoor space where we can meet with you while maintaining our distance if this is necessary.
What if I develop COVID-19 symptoms during my stay?
At the time of publication, the guidance from UK Hospitality Scotland states that if a guest presents themselves with symptoms of Covid-19 or is asymptomatic but declares the need to self-isolate, they should be advised to check out and return home to self-isolate according to current government guidance. If the guest has acute symptoms, has breathing difficulties, or their life is at potential risk, seek medical help immediately.
This official guidance is subject to change and we will provide updates when available.